3 Important Tools for Social Media Marketing
Social media marketing, one of the most popular uses of today, is developing day by day by increasing its usability. As Screpy experts, we provide you with the most detailed information about 3 important tools, considering the importance of social media marketing in digital marketing. First, we will answer the question of what exactly social media marketing is and talk about social media marketing features. Think of a company that provides a product or service and imagine that the company does its marketing through social media and social networks. In addition to marketing, companies are promoting themselves and using social media to reach even more new customers. Social media marketing is carried out with applications such as Instagram, Facebook, Twitter, which everyone has heard and used by many. Marketers discover the interests of the community through these applications, create strategies accordingly and carry out marketing.
We, as Screpy, share important details about social media marketing, which is the most common marketing branch of recent days and discuss the most remarkable tools in this regard. We explain in detail to you the companies' use of social media in marketing and the systems developed over social media in marketing.
See More: Instagram Marketing Tips
How many social media apps do you think companies use to market the products or services they provide? Most of the time, it is more than one application and the platforms used are Facebook, Instagram, and Messenger. The active use of these applications is also one of the most necessary conditions for social media marketing. One of the ways companies and marketers can choose to implement strategies on the right social media marketing is Facebook Business Suite. Facebook Business Suite offers the opportunity to manage social media platforms Facebook, Instagram, and Messenger applications from a single center. As Screpy experts, we also explain Facebook Business Suite to you in the most detailed way.
With the ability to manage social media applications from a single point, the Facebook Business Suite, which is used completely free of charge, reduces the time excess during social media management. It is possible to create a post as well as easily accessing the connected platforms via a single home screen. It is possible to observe the last movements you have made on social media and even the budget planning for advertising through Facebook Business Suite.
Providing significant advantages in digital marketing, Facebook Business Suite is appreciated by users with its features. Screpy, that is, we describe these features for you:
By planning a post to be shared on Instagram and Facebook, it is possible to share it on both platforms at the same time. In this way, Facebook Business Suite users save time.
Facebook messages, Messenger messages, and Instagram messages of customers trying to communicate can be viewed and answered from a single center. Thus, fast communication with customers is ensured, and in this case, customer satisfaction occurs.
Notifications coming from different platforms are collected in a single center and thus, social media monitoring can be carried out in a more planned manner.
Facebook Business Suite also does a good job in situations such as creating simple ads quickly. It is possible to perform these advertisements on both Facebook and Instagram. With Facebook Business Suite, ads can be created, adverts can be stopped, or new ad plans can be made.
Economic plans, incomes, expenditures, and budgets can be controlled and reviewed via Facebook Business Suite.
It is possible to examine the new fashion trends and trends revealed by social media users. In this way, the products or services to be marketed will be formed correctly and successful marketing will be achieved.
By comparing the past performance of the company or business with the current performance, marketing strategies can be obtained with the right planning.
Facebook Business Suite does not require staying at the computer all day or going everywhere with a computer! Maintaining social media marketing anytime and anywhere can also be done over the phone. We, as Screpy, have explained to you the features you can perform in the Facebook Business Suite mobile application:
All notifications and messages on the platforms are also controlled via the mobile application.
Shares can be edited, and even new posts can be created.
Advertisements can be tracked. In this mobile application, it is possible to follow the advertisements over the past 14 days.
It is possible to follow statistics such as the number of people visiting the page and the number of followers during the day.
As Screpy experts, we explained that using Facebook Business Suite makes many tasks easier for digital marketers. Now we will talk about the advantages of Business Suite. With the use of Facebook Business Suite, running Instagram, Facebook, and Messenger from a common center saves time, which is one of the biggest advantages. Thanks to this time saving, businesses or companies can sign new projects for their products or services and maintain their name. The execution of these 3 different applications from a single center provides the opportunity to reach all customers more easily and shortly, and thus it is possible to reach more people in a short time. In addition to all these, it is ensured that the company's products or services are promoted most accurately by obtaining the most accurate advertising plan and the most accurate marketing strategy, thanks to budget and statistical reviews.
One of the most used systems in digital marketing seems to be Facebook Creator Studio. As Screpy experts, we discussed what Creator Studio does and how it is used, which is used to follow the right path and apply the right strategies for social media marketing. Facebook Creator Studio features the production and management of content, performance tracking, and the inclusion of Instagram in addition to Facebook. In social media marketing, if your business continues only with Facebook and Instagram, Creator Studio is one of the most suitable marketing systems to use. Facebook Creator Studio does not require a separate site or separate application because it appears as a tool within Facebook itself. As Screpy experts for Facebook Creator Studio, which has a suitable use for social media marketing, we conducted our research for you.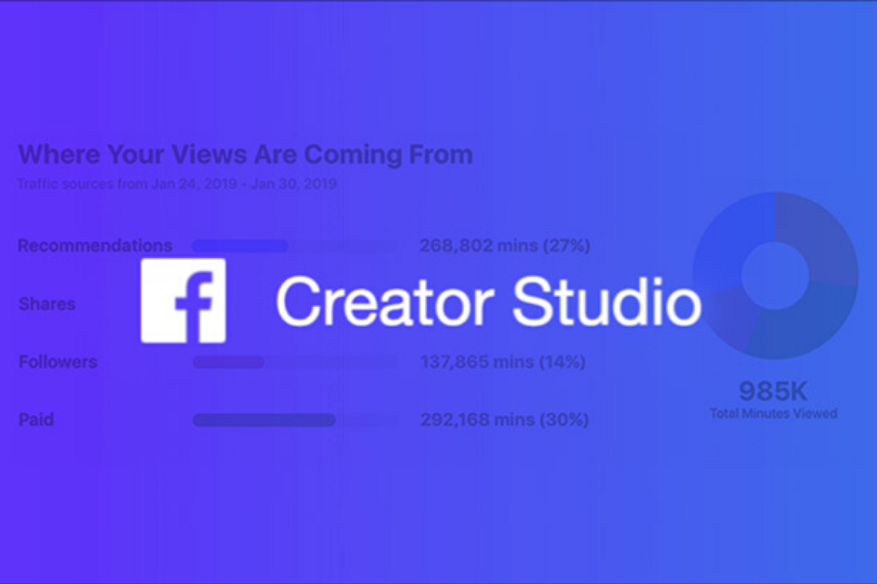 Facebook Creator Studio is a great content editing and content management system. We list other features for Creator Studio, which can be used both as a desktop web version and as a mobile application, as follows:
Desktop usage takes place entirely on Facebook. You can start using the Facebook page by clicking on the Creator Studio section at the top. Although the mobile application is not as widely used as the web version, it continues to be renewed day by day and expands its usage area.
Facebook Creator Studio, which can be used simultaneously on both the mobile application and the web version, works in sync with each other.
It is possible to provide different levels of access by assigning tasks to people in Facebook Creator Studio. Five different assignments can be made, and these duties are respectively manager, editor, moderator, advertiser, and analyst. It is possible to specify what people allowed for these five tasks can and cannot do in Creator Studio. For example, while the editor can publish and share content, the analyst cannot.
The most expert work done by Creator Studio is the perfect planning and management of shares and posts, but Facebook Creator Studio is not limited to just that. As Screpy's experts, we will inform you about the features made and used on Creator Studio and how these features are implemented.
Scheduling Posts: Selecting posts and scheduling posts on Facebook Creator Studio have a much higher quality feature. When you enter Creator Studio, it is necessary to click on the blue "Create Post" section in the upper left corner. Here, it is possible to choose the type of post (such as post, story, video) as well as to choose the time of these posts. Choosing a target audience for the posts is another important feature.
"Public" sharing can be made so that the published post can be seen by everyone both on and off Facebook.
"Restricted Audience" sharing can be performed to share using age or location restrictions.
"News Source Targeting" can be shared only for people in certain areas and to reach people connected with them.
"Best Fans" can be preferred to share the posts with the people who interact with the page the most.
Planning and Managing Instagram Content: After entering Creator Studio on Facebook, it is possible to switch to the Instagram platform by clicking the Instagram icon at the top of the page. Here are the features that can perform:
Photos and videos can be used for posts. Here, it can offer advanced settings such as comment restriction, post tagging. There are also options such as sharing posts immediately, scheduled sharing or saving them in a draft.
IGTV sharing arrangements are also one of the features that can be done through this system. While sharing videos that can be accessed up to 60 minutes long, it is possible to add titles, subtitles, and links to this video. In addition to creating a cover photo, it is also possible to share this preview via Instagram and Facebook by performing a small video preview.
Timing of Stories: Story planning, which is not yet on Instagram but is expected to happen soon, can be done on Facebook.
Messages: Facebook Creator Studio has a different layout and collects messages from both Facebook, Instagram, and Messenger in one place. All messages are easily accessible from one place.
Notifications: All notifications, all interactions, all comments, and all shares on Facebook and Instagram can be seen in Creator Studio.
Intelligent Answering: Although it is simple to use, it is also possible to give automatic answers for the standard questions that are always asked in Creator Studio. The timing of the automatic replies to be given is also one of the situations that can be adjusted.
The Importance of Video Sharing: Facebook Creator Studio has a structure that gives importance to video content. Studio, which paves the way for sharing such as standard video shares and episodic videos, also has adjustments that edit the opened live broadcast video and turn it into a clip. Moreover, it is possible to create specific playlists using videos.
Analysis: The analysis section, which is organized for video and story sharing, provides detailed information in this section. The basic information is as follows:
Which minutes are displayed,
3-second video views,
15-second video views,
1-minute video views.
Depending on these analyzes, new interactions and analyses of new followers can also be observed. With the analysis of the information about how much the videos are watched, sharing in the right strategies is opened.
Some situations can be done to earn money in Creator Studio. Thanks to options such as advertisements or paid subscriptions placed in the broadcasts, you can earn through Creator Studio. An application is made to reach this income, and after the application is approved, the selection and arrangement of the advertisements to be made can also be carried out as well as making the payment settings. There is also a "Monetization" tab for this feature.
To ensure correct management, other posts like your posts and like the audio content of your posts are detected on Instagram and Facebook. In this way, the protection of your shipments can be tracked much more easily. Only administrators can access the "Right Manager" section for this feature.
Especially the sounds used in videos have copyright problems. Facebook Creator Studio, which provides great convenience for this problem, offers many free parts. There is a library of audio types with plenty of options. There is a "Sound Effects" tab where this feature is realized. The only system that offers this feature in social media is Facebook Creator Studio.
Increasing popularity in the digital marketing and shopping world, Instagram is a platform that plays a big role in social media marketing. Especially the use of Business profiles by businesses or companies paves the way for easier shopping on Instagram. The important thing here is that you can guide your followers most conveniently and easily for these purchases. As Screpy experts, we explain in detail the great impact of creating a catalog on Instagram and its place in digital marketing for you.

It is possible to think of the idea of creating a catalog on Instagram as having a store on Instagram. It can be ensured that users visit your Instagram store and easily examine the prices and features of the products seen in the store.
If you want to publish your products on Instagram in a catalog form, you must first be a store owner. No worries, we as Screpy experts explain to you all the necessary details about it. For an Instagram store:
Your company or business must be able to sell legally. It is one of the details that should not be forgotten that the products or services sold must be included in the legal market.
Check out the contract pages on Facebook and Instagram to see if you have a proper store profile.
For your catalogs in the Instagram store, the products you sell from your e-commerce site must be found. If you don't have e-commerce sales, your Instagram store will not be able to be created either.
With the help of creating a catalog, you can make a special promotion of the products you want to sell. Products with all their features on the catalog will be directed to the page on the e-commerce site with a single click.
Now we explain to you in detail the ways to create a catalog in the Instagram store. As Screpy experts, we provide you with all the details about creating a catalog.
First, you must have a business account. It is necessary to start by creating a business account or by converting the profile to a business account if you already have one. For conversion:
Go to the "Settings" section.
Then go to the "Account" section on the menu.
Select the "Switch to Professional Account" option on the page that opens.
Add the last information by typing the requested detailed information.
Link your account with your Facebook account.
Here are the steps you can follow to link your Instagram account with your Facebook account:
Select "Edit Profile" on your business account.
On the page that opens, switch to the "Public Business Information" page and edit your information.
Then press the "Page" option and select your business account on Facebook from here. Remember that being linked to Facebook is an indispensable condition and catalog creation will not happen if you don't have a Facebook page.
Now everything is done to create the catalog. Generally, most e-commerce sites are suitable for Instagram catalogs. It is possible to automatically integrate the catalog planning you have prepared into Instagram. If your e-commerce site is not supported by the Instagram infrastructure, you can create a catalog with the help of the Facebook Business Manager and define it on Instagram.
Everything is ready, only Instagram approval is left. It is necessary to wait for your catalogs to be approved and published by submitting your account for approval. Depending on the density, the waiting time can be. Press the three-line icon in your business account and go to "Settings". From here, proceed to the "Signing Up for Shopping Feature" section and continue with the necessary procedures.
There are certain conditions for the products to be used during catalog creation. There should be a maximum of 5 products in a photo post or a video post. For multi-image or video sharing, a maximum of 20 products should be included in the catalog. In addition, it is possible to add products on old shares and create a catalog feature.
Catalog creation can be performed not only on posts but also on stories. We have explained the details of adding products to the story in detail for you:
Select the photo or video to share in the story.
Then access your catalog by selecting the product sticker in the "Sticker" option.
Select the product you want to label from the catalog
Provide the finishing touches and share the story from the normal story settings.
There is no integrated setting for WhatsApp uses yet, but according to the information obtained, Facebook Business Suite is working for WhatsApp. We think that this integration will take place soon with the final adjustments.
Both systems are a center where 3 different platforms, Instagram, Facebook, and Messenger, gather. The difference is that Facebook Creator Studio provides professionalism in planning and editing on the posts made and to be made, and Facebook Business Suite gathers every detail of these 3 platforms into a single center. What we mean is that the Business Suite is more comprehensive.
For Instagram catalog creation, both your Facebook page and your e-commerce site must be present. The Instagram catalog is the detailed promotion of your store on Instagram, your sales are not made through Instagram, but from the e-commerce site, you have integrated. With the Facebook connection, it is possible to perform the necessary analysis reviews for your sales.