Account-Based Marketing (ABM) is a marketing operation in which a company's resources focus on specific accounts. It can also be called customer-centric marketing. Before conducting an ABM approach, the target account is determined. The plan is shaped around the account so that they can be charmed. To do so, research is done, and the customer is analyzed with the data acquired thanks to researches and analyses. In the light of the researches, customized marketing activities are planned to win the account's heart. Thus, the marketing strategy carried out becomes personalized for the targeted customer.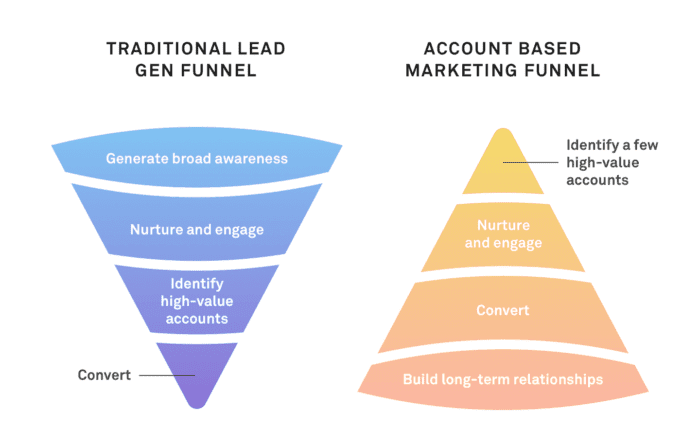 While it is an approach that is seldomly used by small businesses, the goal of account-based marketing is not to catch a small fish but to get a giant blue whale. Therefore, it requires a more specific and customized approach. It also requires a detailed study in which all the expectations and needs of the targeted customer are determined, analyzed, and calculated.
The purpose of the analysis is to create campaigns and strategies that will make it easier for you to get the targeted customer in the bag. And honestly, As Screpy experts, we must say that this whole process is very labor-intensive. However, it is the only way that enables the customer to learn about your brand, company, products, or services. By doing this, you can convince the other side of the deal by pointing out the needs that you will fill.
From the moment the agreement is made, you have successfully passed the marketing part and enter into the blessed stage where you can make sales. However, account-based marketing is still not quite finished because the entire sales process, the next stages after the agreement, and the long-term plans are also within ABM.
No matter what kind of brand or company you are running, the marketing section is vital in the sale process. As you make your brand and product known through marketing, you fulfill the requirements for the customer to purchase what you offer.
However, in some cases, a general marketing approach may not be sufficient or may not be appealing to the target audience which company intends to reach. Therefore, B2B companies utilize ABM strategies. ABM, which is one of the most accurate ways to reach the targeted audience, shapes around customized activities on an account basis so that they can be useful to the right customer at the right time.
In addition, apart from the fact that ABM studies enable a company to hit the bull's eye, the process can be monitored. For example, it can be monitored whether the targeted customer is sufficiently engaged. Or whether the sales or process continues at the desired speed can be followed. In addition, the answers to questions such as whether the brand's visibility or brand value has increased can be observed as if watching a clear sky at night.
Account-based marketing comes with many benefits to companies. In summary, strategies handled with this approach include specificity to acquire more customers and lead to more successes than other strategies. As Screpy experts, we would like to mention other benefits as well.
An effective ABM enables you to achieve precise business results. According to many experts and company CEOs, it provides a higher return on investment than any of ABM's B2B marketing tactics compared to other marketing initiatives.
Since ABM is multi-targeted, it enables companies to use their resources efficiently while minimizing resource waste. This is mostly because companies are allowed to conduct marketing studies that are optimized specifically for target accounts through ABM.
As long as an ABM strategy is followed as it should be, your targets become your local accounts quicker, considering other types of marketing. Remember that ABM is specifically targeted. And the customer's interest can be measured and determined in a shorter time. Besides, a proper and accurate ABM strategy allows you to jump into the sale part quicker.
Account-based marketing tactics ensure that all communication channels and activities are customized to appeal to the specific account. Therefore, they are expected to fulfill the account's satisfaction. Personalization is important because always keep in mind that accounts do always love contents and activities specifically designed for them.
ABM helps you closely monitor your calculations and effectiveness of campaigns such as advertisements or events. Besides, you can draw obvious conclusions since all the measurement depends on a small set.
While sales cycles can be quite long and tiring for a normal marketing program, it becomes shorter and more precise with ABM. The campaign gets more effective because the labor and materials focus on a single customer rather than a community. Thus, the path necessary for the sales cycle is completed by taking a few steps.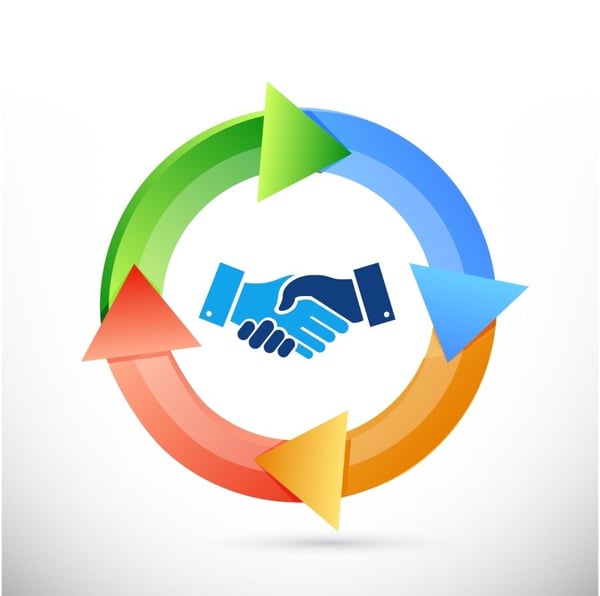 Instead of the possibility of wasting time on companies that are not interested in your offer, you can directly commit investments and long-term business opportunities with one god-like account. Therefore, you can achieve the highest goal of a company can desire and reach the moon of industry.
ABM is an important program that every marketer should know, and it also has different benefits that it provides. But how can you implement an ABM program? Let's see what we can do, shall we?
First of all, your teams need to work in harmony for the big goal and around a strong strategy. Questions such as how to communicate with high-value accounts, which teams are responsible for communication, how the first promotion will be should be determined and answered by marketing and sales teams that are directly related. The marketing team and the sales team, who will correct the mistakes with after-sales feedback, should act as an inseparable whole. Remember that for marketing departments, teamwork and commitment to strategy are extra important.
The most important point in account-based marketing is the accounts themselves. If the targeted account is not the right focus for your brand, it would be as if you will have to walk to the moon. For this reason, the brand should evaluate itself, its product or service in detail, determine the most relevant target for the account, and decide on the most accurate strategy. While determining the target, previous agreements should also be considered, and a road map should be created according to it.
Explore, examine and dive deep into the firmographic data in order to define your high-value target accounts. Extend the borders of your business intelligence and detect which ones can provide you the most revenue at the end of the year. Besides that, outline the possible market influence you can acquire by an agreement dealt with high-value target accounts.
ABM is a marketing program that involves personalizing the target accounts. On top of that, you need to convince each account that these activities are prepared for them. Thus, you need to win the heart of the target account and underline that the brand will offer a special service to them.
In order to take more solid steps and move faster with a high-value account, it should be the center of your attention and exploration. What are your account needs? What's the budget? What does it expect from you? By asking such questions, you should outline the structure and ideas.
After moving to the sales part with your targeted account, what you need to do is to reach people with the communication tools used by your target audience, such as web, mobile, radio, newspapers, and e-mail. However, remember that which channel will be most effective will vary depending on the industry and product class you are in. Also, do not overlook the demographic and economic characteristics of people.
You customized the marketing activity according to the high-value account, set up a perfect group for teamwork, customized the campaigns, and found the right target audience. This is all very ABM itself, but there is one last thing we would like to add as Screpy experts. Test, test, and test! Monitor your ABM campaign regularly and continuously improve yourself by determining the necessary calculations and making adjustments.
Now, it is time to answer frequently asked questions about account-based marketing.
Account-based marketing is a focused growth marketing approach in which sales and marketing experts collaborate to maximize revenue through a mutual relationship with high-value accounts. It allows your sales team and the marketing team to work together to achieve your company's long-term economic goal while satisfying customers and increasing revenue. Once you determine an ABM strategy to implement, you should consider which type of ABM will be more effective and beneficial for you.
Account-based marketing is a vital marketing approach for B2B companies.